Volunteer With Us!
---
SIGN UP TO OUR NEWSLETTER
Do you want to make a difference, learn more about sustainability and help divert huge amounts of waste from our landfills whilst having fun and making friends? If so, we would love to have you on our team. Our volunteers are very precious to us and you will be well treated for your hard work – volunteer letters, smiles, friends, fun and (of course) fresh, organic, local food.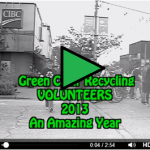 Green Chair is a locally owned waste management business dedicated to providing simple and effective recycling solutions to enhance your community. We are a for-profit social enterprise; proving that a business can be economically sustainable whilst doing the right thing, benefiting those around us and strengthening our community. Learn more about how Green Chair is making a difference.
To really understand what being part of our team means… Watch this. Making a difference, recycling, zero waste and… smiles!
Current Volunteer Opportunities
We are recruiting volunteers for our Green Team to attend to recycling stations at community events and to educate the public on how to recycle. All ages and abilities are welcome. Meet some our amazing volunteers. We have volunteer opportunities throughout the year including recycling events, parties, speakers, social activities and much more. Check our calendar for upcoming opportunities. Meet some of our awesome volunteers.
Green Leaders
Green Leaders are dedicated volunteers who have proved themselves to be highly capable and passionate about making a real difference. Find out more about becoming a Green Leader and help to strengthen your resume and gain valuable leadership skills.
Intern Opportunities
Or are you looking to gain valuable work experience within the environmental field whilst being able to make a real difference? Then see our intern opportunities…..
How to Apply
Either follow the links in the events calendar or contact us for more details. Make sure you sign up for our Newsletter below to receive information on future events.
Sign up to our Newsletter
Sign up to receive the Green Chair Newsletter and notifications of our upcoming volunteer opportunities:
Please contact us for more details. Follow us on twitter and facebook to see past photos from past events.

*Note that volunteers should be a minimum of 15 years old. If you are between 15-18 years old you will need to fill out a parental/guardian consent form.